Illinois EPA will be hosting a Post-Development Stormwater Runoff Performance Standards workshop December 9, 2014 in Normal, Illinois. More information, including a draft agenda and a link to register is available here.
Use of American Iron and Steel is now a requirement for Clean Water State Revolving Fund (CWSRF) and Drinking Water State Revolving Fund (DWSRF) projects. This includes Clean Water Initiative Loan Projects. On January 17, 2014, the Consolidated Appropriations Act, 2014 was enacted and a "Buy American" requirement was added to both SRF programs. In order to obtain funds from either SRF program, all iron and steel products that are used for the construction, alteration, maintenance or repair of a public water system or treatment works must be produced in the United States. USEPA issued Official Guidance for these requirements on March 20, 2014.
FREE financial planning service is available to small systems from the Environmental Finance Center Network.
Find out more or request one-on-one assistance today.
---
Assessment of Total Chromium in Illinois Community Water Supplies
In response to the Environmental Working Group's recent report on the presence of chromium-6 in drinking water, U.S. EPA will work with state and local officials to better determine the prevalence of this contaminant. Illinois EPA believes that it is very important that we start with a sound understanding and assessment of what we know relative to total chromium in Illinois ground and surface water (including Lake Michigan) used as a source of public water supply. The Illinois EPA has prepared a fact sheet entitled "Assessment of Total Chromium in Illinois Community Water Supplies" which references data for drinking water quality for total chromium, as well as source water quality for total chromium from surface water and groundwater sources.
---
State Revolving Fund Recommendations Released
The Illinois EPA has released draft recommendations for the development of new guidelines, procedures and regulations for the State Revolving Fund (SRF) programs in Illinois. The SRF programs, which include the Water Pollution Control (WPCLP) and Public Water Supply (PWSLP) loan programs for wastewater and drinking water infrastructure projects, are revolving loan programs that utilize program repayments, in concert with ongoing state and federal funding support, to provide a perpetual financing source for environmental infrastructure projects in communities around the State. Federal policy changes in recent years have led to a number of program changes at the state level, including two major rules revisions that carried with them a variety of program efficiencies and significant shifts in program philosophy. With an eye toward the future, the Illinois EPA established the Water Pollution Control and Public Water Supply Advisory Committees earlier this year to assist with the task of refining these recent changes and realigning the programs within the framework of federal requirements and guidance on the SRF programs. The Illinois EPA will use these recommendations, with continued input from the advisory committees, as a set of guiding principles in more closely aligning the SRF programs with evolving industry standards, and in maximizing the future of effective clean water and public water supply operations in Illinois.
---
FY 2011 Small Systems Compliance Grant Program
The Small Systems Compliance Grant (SSCG) program is a new opportunity for small community water supplies (small systems) that are in noncompliance with the Safe Drinking Water Act and state drinking water requirements, to receive funding from the Illinois EPA to construct projects that will remedy system deficiencies and bring them back into compliance.
---
Nutrient Summit Held
The impact of excess nitrogen and phosphorus in rivers, lakes, streams and the Gulf of Mexico has become a very high profile water quality issue. Under the right conditions, nutrients can cause excessive algal blooms, low oxygen and nuisance conditions that adversely impact aquatic life, drinking water and recreational uses of the water. A Nutrient Summit was held on September 13-14, 2010, at the University of Illinois-Springfield. Invitees included over 250 people representing government, environmental groups, municipal and industrial wastewater dischargers, agricultural groups, academia, non-governmental organizations, and consulting firms with an interest in the topic of nutrient pollution. The intent of the Summit was to present factual information as well as various stakeholder perspectives.
---
Operator Certification Examination Schedule:
Drinking Water and Waste Waterare now available.

NetDMR Reporting
NetDMR is a Web-based tool that allows National Pollutant Discharge Elimination System (NPDES) permittees to electronically sign and submit their discharge monitoring reports (DMRs) to EPA's Integrated Compliance Information System (ICIS-NPDES) via the Central Data Exchange (CDX) node on the Environmental Information Exchange Network. IEPA has chosen NetDMR over the current electronic reporting tool, e-DMR, due to the direct link to ICIS-NPDES and because it is more user friendly.
---
Searchable DMR Data
Searchable historic Discharge Monitoring Reporting Data.
---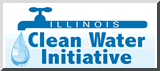 Governor Quinn recently announced the 2012 Illinois Clean Water Initiative for affordable drinking water and wastewater infrastructure upgrades in Illinois. $1 billion in additional financing will be available for loans from the Illinois EPA for drinking water and wastewater infrastructure improvements.
---
Private Well Sampling Results in Village of McCollum Lake
An Illinois EPA analysis of private well sample results in the Village of McCollum Lake and related hydrogeological evaluation is now available.
---
Emergency Preparedness
When an emergency strikes, inadequate preparation can cause a small problem to escalate quickly into a disaster. Having the proper information in easily accessible locations, being able to obtain the resources needed to address the emergency, and communicating among individuals within the public water supply service area are important keys to address any emergency.
---
Drinking Water Watch
The Drinking Water Watch Web Portal allows citizens to directly access drinking water monitoring data and other information for community water systems in Illinois. The information is of interest not only to consumers of the water supply but nearby private well owners can also quickly check on potential contamination threats.
---
Concentrated Animal Feeding Operations (CAFO)
Despite substantial improvements in the nation's water quality since the inception of the Clean Water Act, nearly 40 percent of the nation's assessed waters show impairments from a wide range of sources. Improper management of manure from CAFOs is among the many contributors to remaining water quality problems.
---
Safe Drinking Water Information System
View SDWIS Monitoring Schedules and Consumer Confidence Reports specific to your water system.
---
The Green Infrastructure for Clean Water Act, requires the Illinois EPA to assess and evaluate using green infrastructure to help manage stormwater in Illinois. Illinois EPA is currently working with the University of Illinois Chicago to undertake research to assess effective best management practices, green infrastructure standards and institutional and policy frameworks to support the development of a Green Infrastructure Plan for Illinois.